As spring approaches, lots of us start to think about our gardens and its plants. Going to a garden centre and buying plants that are looking lovely in their nursery pots, but that won't necessarily suit or look as good in your garden is a very common mistake that leads to waste of money and energy and to frustration. With that in mind, I decided to write this blog post as a guidance to help you to make an effective plant selection that will thrive, stay healthy, look good and give you a future-proof garden.
Choosing the "right plant for the right place" is the basic principle of a good plant selection. It means that you have to match the plant selection to the environmental conditions of your garden. These conditions include the amount of light that the planting place receives; the nature of the soil; and the hardiness zone that your garden is situated in. In addition to matching the plants to the natural conditions of your garden, you also need to make sure that the final selection will look aesthetically pleasing, and therefore things like the final dimensions of the mature plants, the type of plant and the interest that it brings should also be considered.
In a nutshell, when considering a plant selection for your garden, having these 7 points in mind should help you to achieve success:
1) Light: Plants can usually tolerate a range of conditions, but will usually thrive only in one of these:
Full sun: Plant needs at least six daily hours of direct sunlight, preferably including noon sun. These are usually also drought tolerant and require less watering (Picture 1): Lavender, verbascum, foxtail lillies etc.
Partial/Dappled shade: Plant needs three to six daily hours of direct or partial (or dappled – filtered by tree branches) sunlight, preferably excluding noon sun, which makes them useful to use as under-planting for open crown trees, for example (Picture 2): Some ferns and rhododendrons, azaleas etc.
Full shade: Plant needs less than three daily hours of sunlight. These are useful to use as under-planting for dense trees (Picture 3) or dark corners: skimia, hostas, lilly of the valley etc.
2) Soil and Moisture: It is best to match the soil conditions (nutrients, pH and drainage) to the plants' tolerated conditions instead of amending it: Planting a border with Chinese astilbes and goat's beard in a poorly drained site (Picture 4) and Rhododendrons and heathers in acidic soil for example. Another alternative would be to grow plants in containers or in beds with its optimal soil.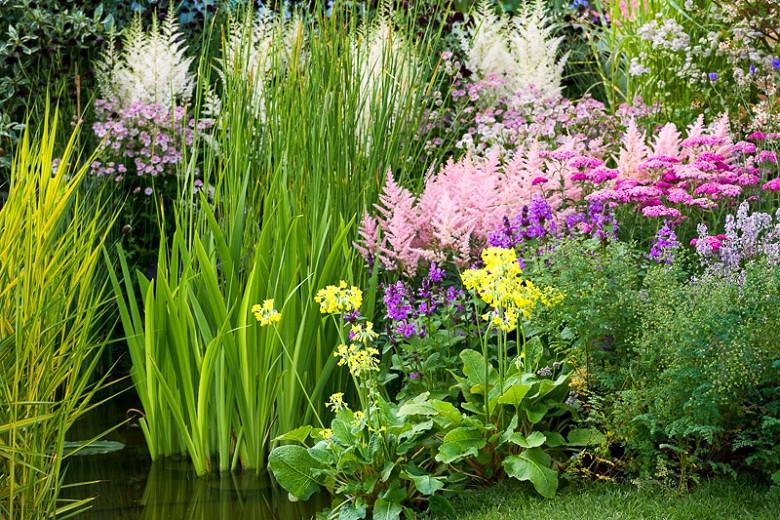 3) Hardiness: Determines the lowest temperature tolerated by the plant and whether it tolerates frost. Usually a plant is labelled to grow in a geographical hardiness zone (determined by the usual lowest temperature that said region reaches), which is important to respect during selection, as well as observing possible microclimate spots and frost pockets (usually spot lower than surroundings where cold and damp accumulates) in the garden when determining the plant's location in it.
4) Height/Spread: Observing the plant's mature dimensions when making the selection and positioning it within the garden helps to achieve a pretty planting scheme without tangling and also helps to keep maintenance needs as low as possible. The mature height helps to position plants in a border with taller ones to the back. Otherwise, tall plants with open habit positioned to the front can create some additional interest (Picture 5).
The mature spread informs the spacing between plants, although plants of the same species can be planted closer together. Furthermore, it's also important to observe the mature dimensions of the plant in relation to the garden size and adjoining house in order to keep good proportion in the design (Picture 6).
5) The type of plant (annual, perennial, deciduous, a tree, etc.) helps to place the plant in the design. Deciduous plants provide seasonal interest and are usually preferred for shelter-belts and evergreens for screening, for example (Pictures 7 and 8).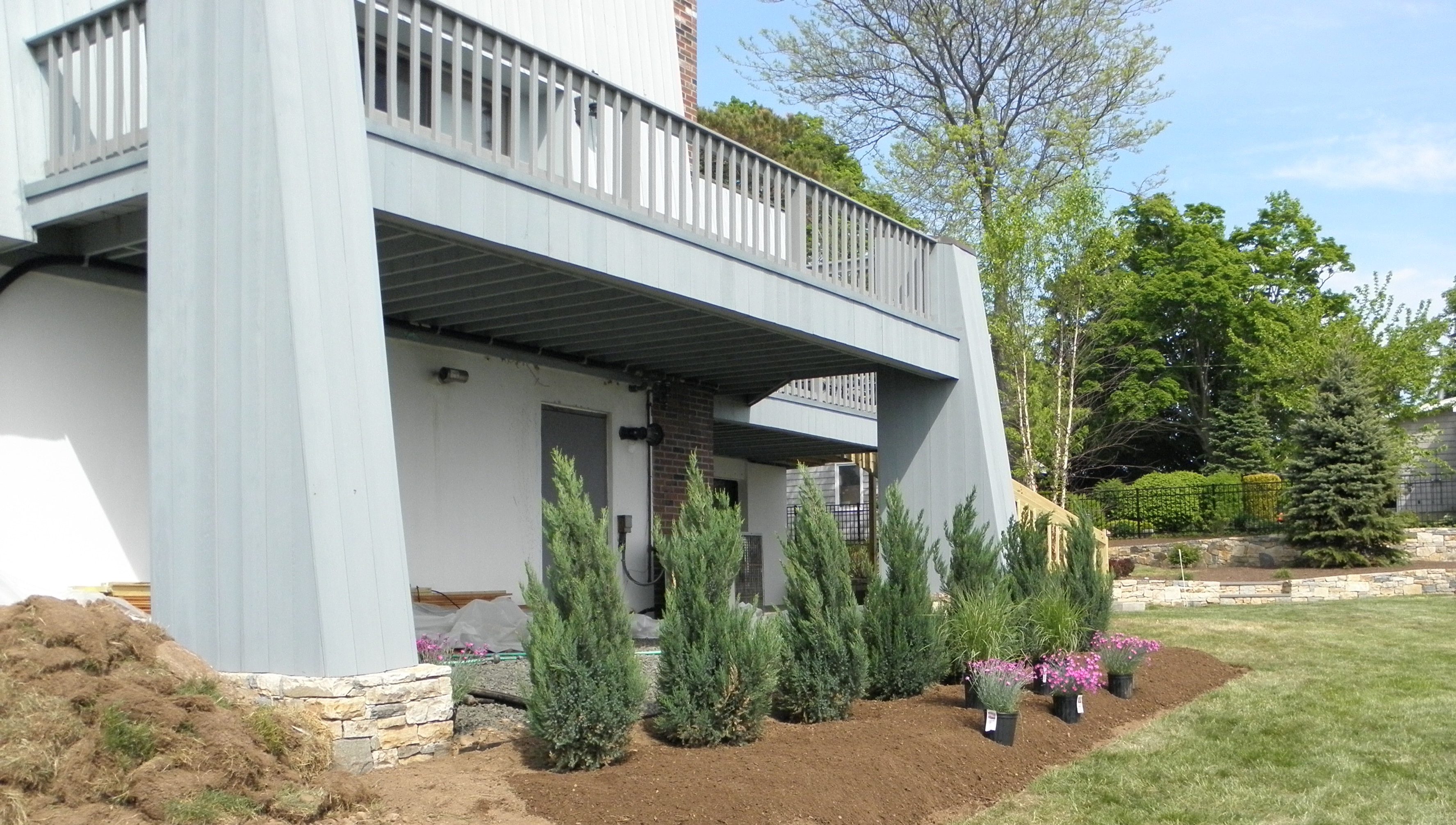 6) Interest: Characteristics that make the plant attractive (foliage, flower, fragrance, fruits/seeds and bark). Foliage provides the main interest in a tropical style garden and flowers in a cottage style garden (Pictures 9 and 10), while fragrance introduces a new sense to the experience and fruits/seeds and bark provide interest during autumn and winter.
When designing a small garden with limited planting space, it is best to go for plants that present year around interest such as the deciduous small tree Amelanchier alnilfolia 'obelisk' (Picture 11), which provides interest with its flowers and fruits during summer and bronze coloured leaves during autumn or evergreen camellias that provide interest with flowers during the cold months and structure with its foliage during the hot months. Another good tip for small planting spaces is to choose plants that have a long flowering period such as rudbeckias and geums (Picture 11).
7) Maintenance: By positioning a plant in the right environmental conditions you are already cutting down on maintenance, as the plant is then much more resistant to pests and diseases and you also won't need to constantly prune it to fit a determined space as you have already selected it according to the space available, for example! But, in addition to this, it is also important to match the plant's care needs (regular – watering, feeding etc., or seasonal – pruning, planting etc) with the time that the main garden carer will have available – Drought resistant plants are good for busy people.
References: